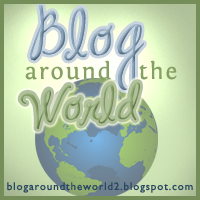 Hello, Ladies (and Gentleman).
If you want to see the tour of Washington state, skip on over to my mom's blog, otherwise:
Welcome to my day in the sun. I was famous once before, so actually, my 15 minutes of fame are over. Read all about one of the six loves of my life today, and then come back tomorrow. And the next day. And the next. And, yes Mom, that was just to bug you.

I thought maybe, just maybe, I should give you the book-flap synopsis of life on the other side of the computer.


Blog Facts:


It's really my sister's fault that you like me. She is the one who set up my blog after I sent her an article that I had submitted to our MOPs newsletter. S

he thinks I want to be just like her. She's right. I copy her all the time. I don't think it bugs her too much anymore.

It's sort of my fault that you like our mom. I didn't actually set her blog up for her, but I helped her figure it out. And I still know her password- and sometimes I even correct her posts.
I have one more sister who blogs. Sometimes.
Me Facts:
I am married to Sebastian. We celebrated our 11th anniversary this year.

We live in the house that God literally handed to us. I still get a little choked up when I drive into the driveway- after 10 years.

We have 5 kids (You can read about them under the label "And In No Particular Order") ages 11, almost 9, 7 1/2, 6, and 3 3/4. They are the handful in my blog title.

I am re-embarking into the realm of homeschooling this year. The oldest is going into 7th grade, but the social aspect of middle school is just too vicious for him.

I have been a Child of God for as long as I can remember, and I thank my parents for the legacy that they have given me. (I feel a post coming on. You'll have to check back now!)
Well, you world travellers, we only serve Coke here- and your options are room temperature or car temperature- so grab a cup of ice and get cozy. I'm so glad you came.